2020 Kia Rio in Colorado Springs CO for sale at Peak Kia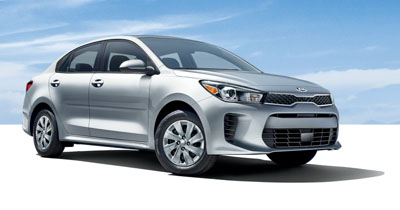 For those of you out there who love a small, quality car, then the Kia Rio 2020 for sale in Colorado Springs, CO is for you. It has a certain flair. It offers a little flash but also retains all those key safety factors that are so important to a good car, and all this makes the Kia Rio an even greater pleasure to drive.
The 2020 Kia Rio for sale in Colorado Springs, CO
It simply invites you to travel about drive happily. Plus, not only does it a great exterior, but it also boasts an attractive interior with a user-friendly infotainment system. It is both upmarket and affordable, with a great MPG ratio and is available in both the sedan and hatchback models. This is the perfect little car to go driving about Colorado Springs, CO. You can take it to the supermarket, to your friends, or you can take it up the 19 mile long winding country road, all the way up to the top of Pikes Peak with no issue at all. So, invest in one today and then go up there and spend some quality time observing that stunning scenery yourself.
The Features
So, your appetite is whetted, you want a Kia Rio 2020 to go driving around Colorado Springs, CO, but you want to know a little more about its standard features. So, what does this car offer:
● It has a new engine and transmission system, a variable automatic transmission (CVT).
● 7'' Touchscreen SatNav with RDS and DAB.
● Get your smartphones out because the Kia Rio 2020 has been made adaptable for Apple CarPlay and Android Auto. A must for every tech lover.
● You will absolutely love the Kia Rio on those cold wintry mornings because it has a heated steering wheel. Who could ask for more?
● It has a state-of-the-art collision-avoidance assistance feature, where the car FDA system uses radar and camera data to make a judgment call. If something like a pedestrian, for example, is detected then the FDA system activates the brakes, to negate the risk of an accident. This feature saves you just as much as the pedestrian.
● You can open it with a Smart Key, and the Engine has a Start/Stop button.
● The Kia Rio 2020 is also equipped with a Lane Departure Warning System (LDWS). So if you take your eye off the ball for a moment, you will be indicated that you are becoming dangerous.
How does it feel to drive?
This is a lovely car to drive. It is extremely agile around corners. It controls body roll perfectly, so when you are going up Pikes Peak in Colorado Springs, on that romantic adventure, you will not be fighting the car at all. Its suspension is well-tuned, so it handles bumps in the road like they do not exist. The interior is simple but effective and is comfortable to drive with plenty of legroom.
Book a test drive today
Looking for a 2020 Kia Rio for sale in Denver, if so, call us today at Peak Kia in Colorado Springs to book a test drive to start the process. You will not regret it. Come here, tune in and drive safe in the knowledge that the Kia Rio 2020 will look after you.
Sales Hours
719-493-9626
| | |
| --- | --- |
| Monday | 8:30 am - 8:00 pm |
| Tuesday | 8:30 am - 8:00 pm |
| Wednesday | 8:30 am - 8:00 pm |
| Thursday | 8:30 am - 8:00 pm |
| Friday | 8:30 am - 8:00 pm |
| Saturday | 8:30 am - 7:00 pm |
| Sunday | Closed |