2020 Kia Sorento in Colorado Springs for sale at Peak Kia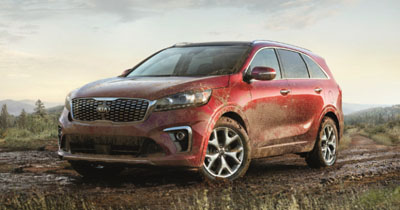 Are you searching for the new 2020 Kia Sorento for sale in Colorado Springs? Here at Peak Kia, we are delighted to be able to offer this vehicle to our customers right now. From our dealership, you'll find that this fantastic new vehicle is available at a great price and does deliver the superb driving experience that you have been searching for.
The 2020 Kia Sorento - Styled To Stun
If you want a vehicle that is going to look great parked outside your home or on the road, then this is definitely a fantastic choice for you. The new 2020 Kia Sorento for sale in Colorado Springs looks incredible on the inside and out. It's sure to impress your family as well as business clients. Little details including the sleek bodywork ensure that this car stands out amongst other possibilities on the market.
A Fantastic Feeling
Despite being lower to the ground than similar styles of vehicle, this car still feels fantastic to drive. You won't need to worry about feeling every bump when you're in this vehicle, even on more difficult roads.
We are also delighted to say that the car does provide some fantastic driving options. With easy steering, you will never feel like you're not in control of this car. That makes it the perfect choice for all weather conditions that you might experience when you are driving in Colorado.
We're Ready To Assist You
We're not the only dealership in Colorado Springs providing the opportunity to purchase the new 2020 Kia Sorento but we are the best. We employ experts as part of our sales team. These individuals will easily be able to answer any questions that you may have about this new vehicle. They will provide you with their full attention and ensure that you can make an informed decision before purchasing this car.
Unlike other dealers, we are not pushy or too forward. We'll help you along the way but ultimately the decision of whether to proceed with a purchase will always be with you.
Get A Great Deal
You might think that the 2020 Kia Sorento for sale in Colorado Springs is outside your price limit. However, we're delighted to say that may not be the case. If you buy from our dealership we will work to offer you the best price for this vehicle on the market. Our aim is always to provide the greatest level of value to our customers.
We also provide a variety of different ways to buy. This means that you don't have to worry about being confined to a payment option that doesn't suit your needs.
If you would like to learn more about the 2020 Kia Sorento for sale in Colorado Springs do make sure that you contact us today. As well as being fantastic for the office commute, this could be a great vehicle for weekend trips to places like the Cave of the Winds Mountain Parks. This vehicle will have no trouble handing some tough roads or rough terrain.
Sales Hours
719-493-9626
| | |
| --- | --- |
| Monday | 8:30 am - 8:00 pm |
| Tuesday | 8:30 am - 8:00 pm |
| Wednesday | 8:30 am - 8:00 pm |
| Thursday | 8:30 am - 8:00 pm |
| Friday | 8:30 am - 8:00 pm |
| Saturday | 8:30 am - 7:00 pm |
| Sunday | Closed |