Kia has recently summited the Everest of award mountains with the Kia Telluride. Named after a beloved mountain town in Colorado, the Kia Telluride is making history with the award 'Triple Crown.'
"Winning this 'Triple Crown' of prizes is a spectacular achievement for the Telluride," said Michael Cole, President, Kia Motors America (KMA), "and also for Kia Motors America. This is not just the unprecedented achievement of a terrific vehicle, but it's also a high-water mark for the brand and places Kia at the forefront of global automakers."
No other SUV in its class has ever won all three awards in one year. The awards were as follows:
● 2020 North American Utility Vehicle of the Year
● Motortrend SUV of the year
● Car and Driver 10 Best
In addition to these prestigious awards, Kia Telluride also takes home numerous 'Best Of' honors from other online, print and video outlets. The Kia Telluride has collected the most awards within its first year on the market of all Kia manufactured vehicles.
Since their release in early 2019, nearly 60,000 Tellurides have been sold. Created, designed, and manufactured in the United States, the Telluride is proudly assembled in West Point, Georgia.
Take a test drive today!
Follow us on Facebook or Instagram for updates on Kia vehicles, car care tips and more.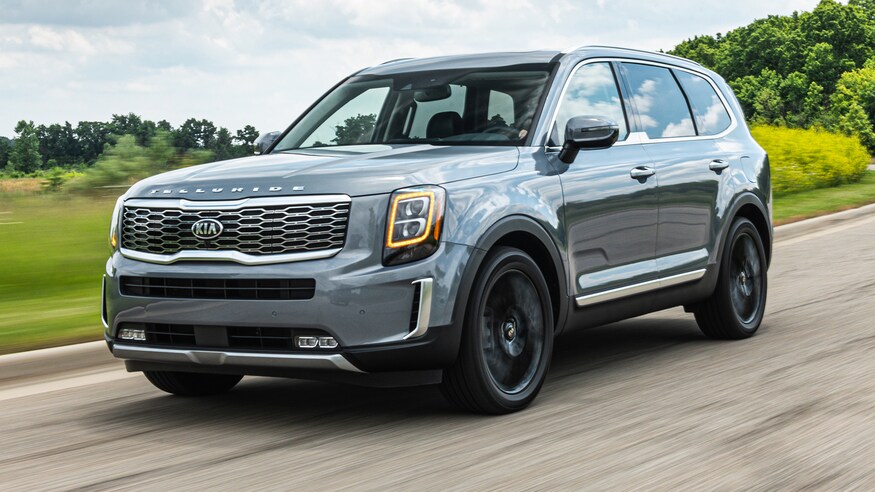 Awards
Best Buy: Best New Model
(2020 Model)
- Kelley Blue Book
---
Best Buy: Midsize SUV
(2020 Model)
- Kelley Blue Book
---
Best Car to Buy
(2020 Model)
- The Car Connection
---
Best SUV Brand
(2020 Model)
- US News
---
Best SUVs for the Money: Finalist
(2020 Model)
- US News
---
CUV of Texas
(2020 Model)
- Texas Auto Writers Association
---
Drivers Choice: Best New Family Car - Nominee
(2020 Model)
- The Car Connection
---
Drivers Choice: Best-Looking New Car - Nominee
(2020 Model)
- The Car Connection
---
Innovation Award: Design
(2020 Model)
- ALG
---
North American Utility Vehicle of the Year
(2020 Model)
- North American Car of the Year
---
SUV of Texas
(2020 Model)
- Texas Auto Writers Association
---
World Car Design of the Year: Nominee
(2020 Model)
- World Car of the Year
---
World Car of the Year Finalist: Top 3
(2020 Model)
- World Car of the Year
---