Kia Telluride

Coming Soon, the 2020 Kia Telluride is a Bold 3-Row Crossover and a true flagship SUV.
The all-new 2020 Kia Telluride.
The new Telluride 3-row SUV, will be the biggest crossover in Kia's lineup, positioned above the (also 3-row) Sorento. Upon this larger canvas Kia has painted bold styling that deviates little from that of the bold Telluride concept car from a few years ago.

Final specifications are forthcoming, but Kia says the Telluride is several inches longer and wider than the Sorento. It'll hold up to eight people, while the Sorento can only hold seven between its two front seats, 3-across 2nd-row bench, and its admittedly tight two-place third-row seat. That means you can expect the Telluride's 3rd row (which reclines) to accommodate 3 humans, although a 7-seat version with captain's chairs in the second row will be available.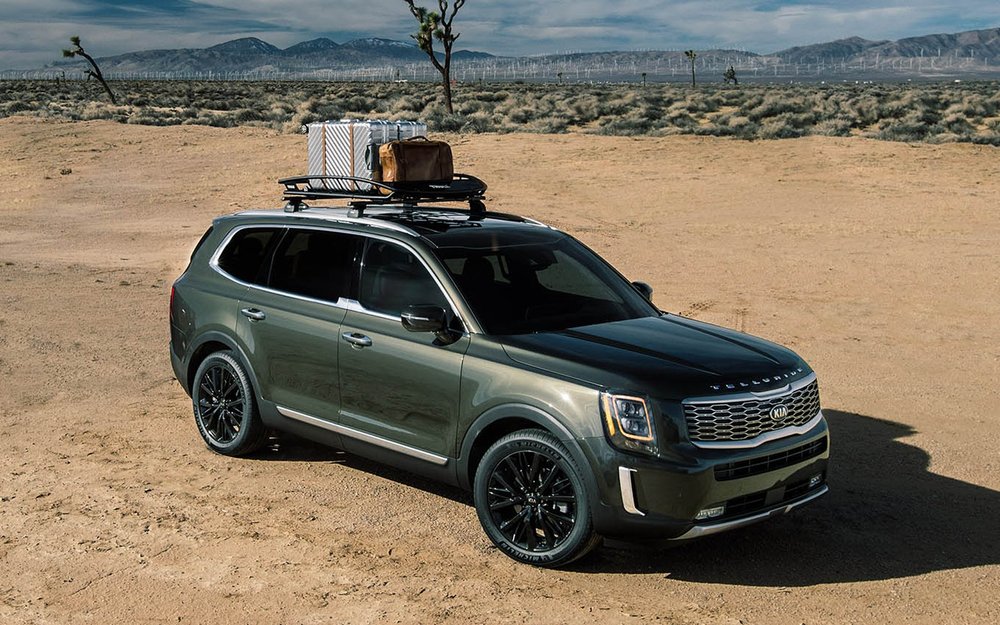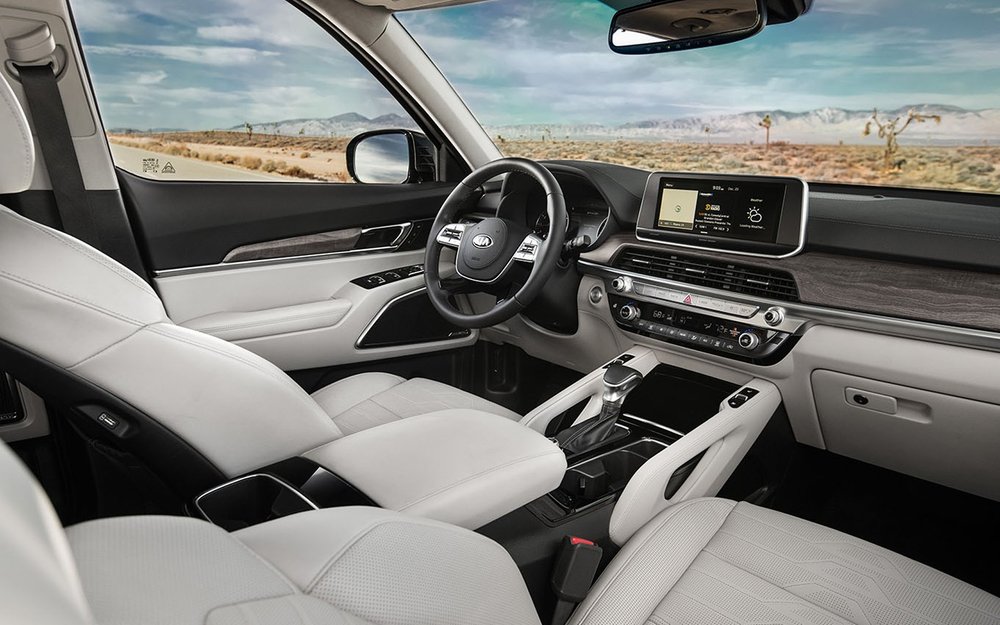 Beyond its extra size, the Telluride also is very distinctive, with interesting head- and taillight designs and a boxy, trucklike silhouette. The interior brings a Mercedes GLE vibe, with double grab handles on the center console and an optional 10.3-inch touchscreen. The optional quilted nappa leather is real, but the aluminum and matte wood are phony. Regardless, it's a handsome interior.

The Kia's styling is so trucklike and bold, in fact, that you could be forgiven for thinking it's an old-school, body-on-frame SUV along the lines of Chevrolet's Tahoe or GMC's Yukon. The Telluride rides on a front-wheel-drive-based unibody platform, built at the same Georgia plant where Kia assembles the Sorento.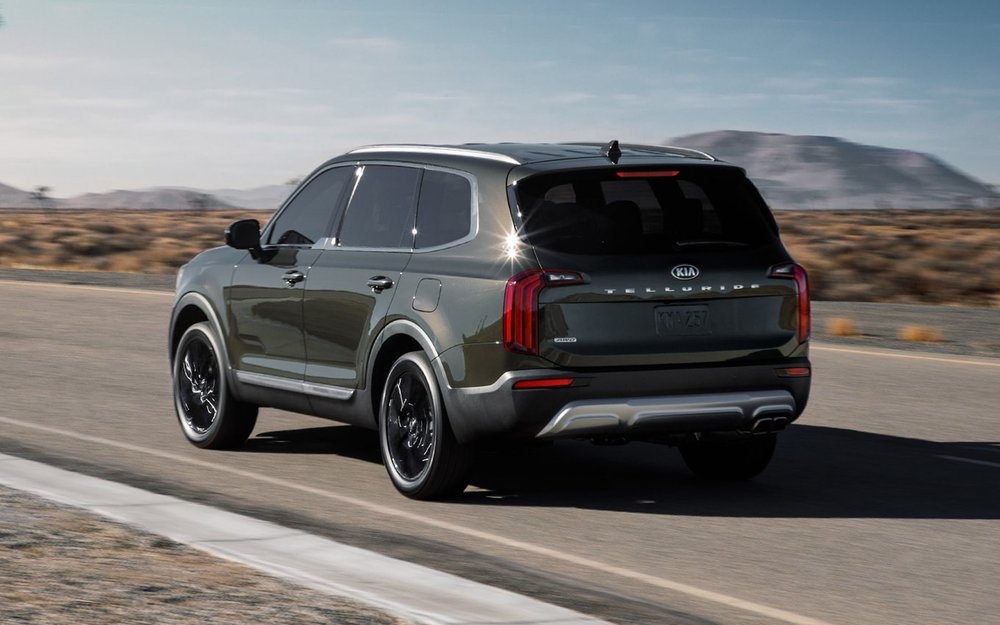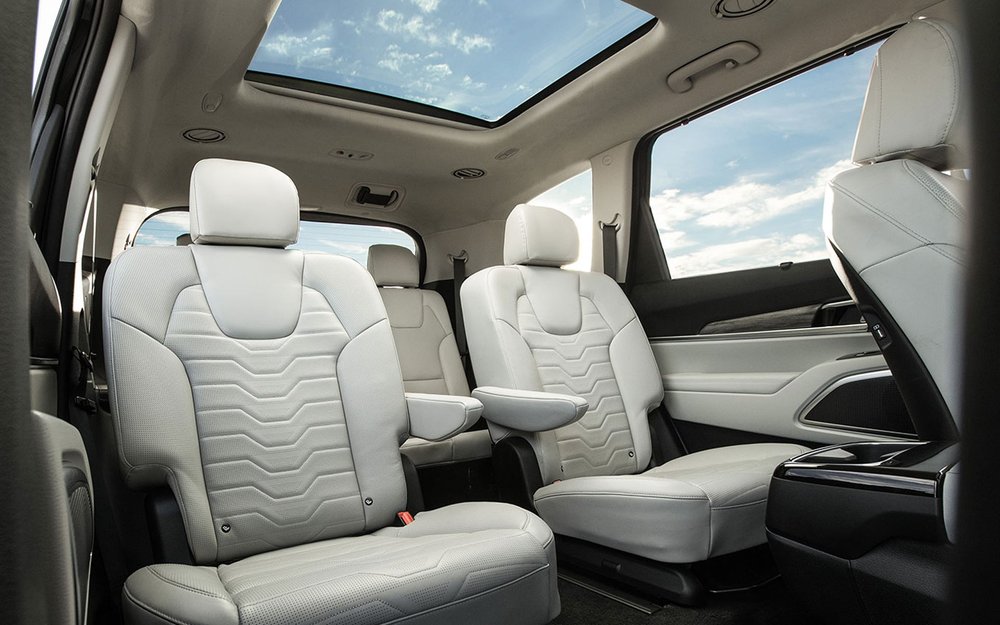 The Telluride uses a single engine and transmission, With a 291 horsepower 3.8-liter V6 engine, 262 lb-ft of torque through an 8-speed automatic. All-wheel drive is optional and varies the torque split from 100 percent in front to a 65/35 split in sport mode. A self-leveling rear air suspension is also optional. Plenty of driver assists will be optional, including sensors that detect if children or pets are left behind in the back rows and a lockout feature for the rear doors in case a fast-moving object approaches too close.

Comfort never takes a back seat in the all-new 2020 Kia Telluride. From the available double-stitched, quilted and padded Nappa leather seat trim, to the ceiling mounted climate vents, keeping up to eight occupants in complete comfort is a breeze.