Electric & Hybrid Car Service & Repair in Colorado Springs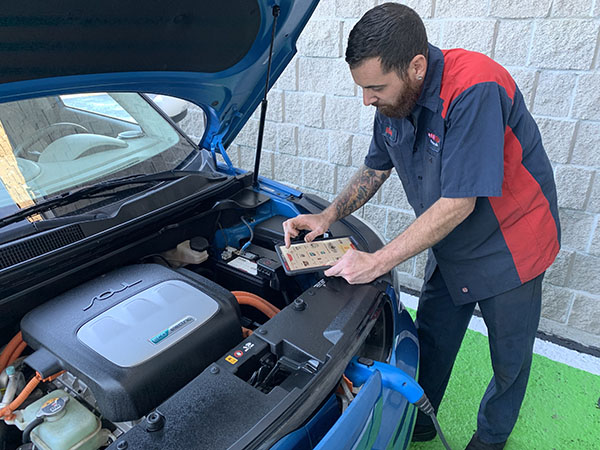 If you own an electric or hybrid car, chances are you already know how cost-effective they are to maintain. With no emissions and no oil usage on electric vehicles, you can enjoy driving your eco-friendly motor, without worrying about the impact it has on your environment.
Fortunately, having your vehicle serviced or repaired is easy too. At Peak Kia, we offer a wide variety of maintenance services and we have a team of specialist electric car technicians on site. Whether your hybrid car needs a routine service or unexpected repairs, we'll provide the electric expertise you need.
Finding electric car repairs in Colorado Springs
When you have your hybrid or electric car serviced or repaired, it's important to find specialist mechanics who can carry out the work. Servicing and repairing an electric vehicle is quite different from working on a gas vehicle, so it's vital you seek special assistance.
However, this doesn't mean you'll pay more to maintain your eco-friendly car. In fact, hybrid and electric cars are typically much cheaper to run, maintain and repair than their gas-based counterparts. As an electric engine doesn't require pistons, oil, gears, etc., there are fewer parts to maintain and fewer parts than can go wrong!
Although electric cars don't need to be repaired as regularly as vehicles with a combustion engine, it's handy to know where to go when they do. If you want your hybrid car to be serviced or maintained by specialist engineers, why not get in touch with us today?
At Peak Kia, we're committed to providing a wide range of services to electric and hybrid car owners. In addition to our standard servicing and maintenance services, we have a team of electric experts on site to work on eco-friendly vehicles. To learn more or to arrange electric car repairs Colorado Springs, schedule an appointment today.
Electric and Hybrid car service in Colorado Springs
Having your electric or hybrid car serviced at regular intervals will ensure its operating optimally and may even increase its lifespan. Whether you're cruising through Pikes Peak or commuting along route 25 twice a day, our team will ensure your eco-friendly car is operating with peak performance.
It's always recommended that hybrid and electric car owners have their vehicles serviced at least once per year or every 12,000 miles. At Peak Kia, we do everything possible to keep the servicing process as simple and straightforward as possible. As well as carrying out a wide array of checks and inspections, we'll arrange a convenient date and time to service your hybrid or electric car.
Your eco-friendly car can only stay gr
een if it's well maintained and well preserved, so why not arrange your routine maintenance check today? Simply call our friendly servicing team and we'll arrange for your vehicle to be inspected by our team of expert mechanics.
To learn more or to find out more about electric car services in Colorado Springs, visit Peak Kia or schedule an appointment today.
Service Hours
719-785-6130
| | |
| --- | --- |
| Monday | 7:00 am - 6:00 pm |
| Tuesday | 7:00 am - 6:00 pm |
| Wednesday | 7:00 am - 6:00 pm |
| Thursday | 7:00 am - 6:00 pm |
| Friday | 7:00 am - 6:00 pm |
| Saturday | 8:00 am - 4:00 pm |
| Sunday | Closed |